Dr. Peter B Milburn in Brooklyn, NY
Dr. Peter B Milburn, MD specializes in dermatology in Brooklyn, NY and has over 42 years of experience in the field of medicine. He graduated from Albert Einstein College Of Medicine Of Yeshiva University with his medical degree in 1977. He is affiliated with numerous hospitals in New York and more, including New York-presbyterian Hospital. Dr. Peter B Milburn is licensed to practice by the state board in New York (137240).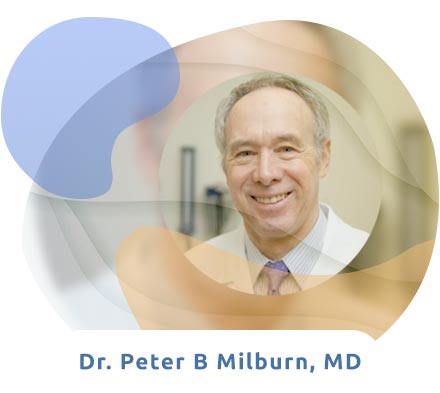 Dr. Peter B Milburn also practices at 8026 5Th Avenue, Brooklyn, NY. He is accepting new patients at his medical office, and available for appointments, preventative care, medical care as well as ongoing patient care.
Contact Information
Primary practice location
Check Dr. Peter B Milburn's office address in Brooklyn, NY and make an appointment.
OFFICE ADDRESS
8026 5Th Avenue,
Brooklyn, NY 11209
PHONE NUMBER
(718) 680 2800
FAX: (718) 921 0712
Hours of Operation
These hours represent Dr. Peter B Milburn office's business hours. Please call (718) 680 2800 to schedule an appointment in his office or get more information.
Monday - Friday: 08 am - 05:00 pm.
Saturday and Sunday: Closed.
Professional Summary
Overview
NPI Number: #1619928272
Medical license: 137240 (NY)
Years in practice: 42+
Gender: Male
Credential: DMD
Is sole proprietor: Yes
Medicare assignment: Yes
Accepting new patients: Yes
Languages: English
Specialties & Expertise
Primary specialty: Dermatology
With more than 42 years of experience, Dr. Peter B Milburn has been identified as specializing in dermatology specialist.
Medical Licenses
Doctors can have one or more medical licenses for different specialities in New York or different states. Related medical licenses for Dr. Peter B Milburn are as mentioned below:
Speciality: Specialist
Taxonomy: 174400000X
Medical Licence: 137240, issued in the state of New York
Medical Training & Board Certifications
Dr. Peter B Milburn graduated from ALBERT EINSTEIN COLLEGE OF MEDICINE OF YESHIVA UNIVERSITY in 1977.
He was educated at the following institutions:
He is a participant in Medicare Physician Quality Reporting System (PQRS) Incentive Program.
Medicare Electronic Health Record (EHR) Incentive Program - n/a
Medicare Electronic Prescribing (eRx) Incentive Program - n/a
Participated in the Medicare Maintenance of Certification Program - n/a
Committed to heart health through the Million Hearts® initiative.
Hospital Affiliations
An affiliated hospital is a hospital where a doctor can practice and admit patients. Affiliation usually means doctors can admit patients to a hospital. Dr. Peter B Milburn is professionally affiliated with the following hospitals in Brooklyn area and more:
New York-presbyterian Hospital
Address: 525 EAST 68TH STREET, NEW YORK, NY 10065
Phone: 2127465454
Hospital Type: Acute Care Hospitals
Hospital overall rating: 3
Emergency Services: Yes
Office Locations & Appointments
Appointments may be made for routine visits or new problems that you may be experiencing. Knowing what questions to ask before, during and after appointments is vital to better understand, and therefore manage, an illness.
Accepts Medicare Assignment: Yes, He will accept the approved Medicare payment and will not bill for more than the Medicare deductible or coinsurance.
Accepting new patients: Yes, Dr. Peter B Milburn is accepting new patients at his office.
Payment Options: Dr. Peter has not yet added any information about he practice's billing policies and payment options.
Languages supported at his practice: English.
Insurance Accepted
Dr. Peter B Milburn does not have any insurances listed.
If your insurance plan is accepted and have any questions regarding your insurance, please visit the office location or contact to get information about insurances provided by this doctor.